Are you looking to set up different prices for different users, based on user role? We have a better solution: prices by user group. How does it work?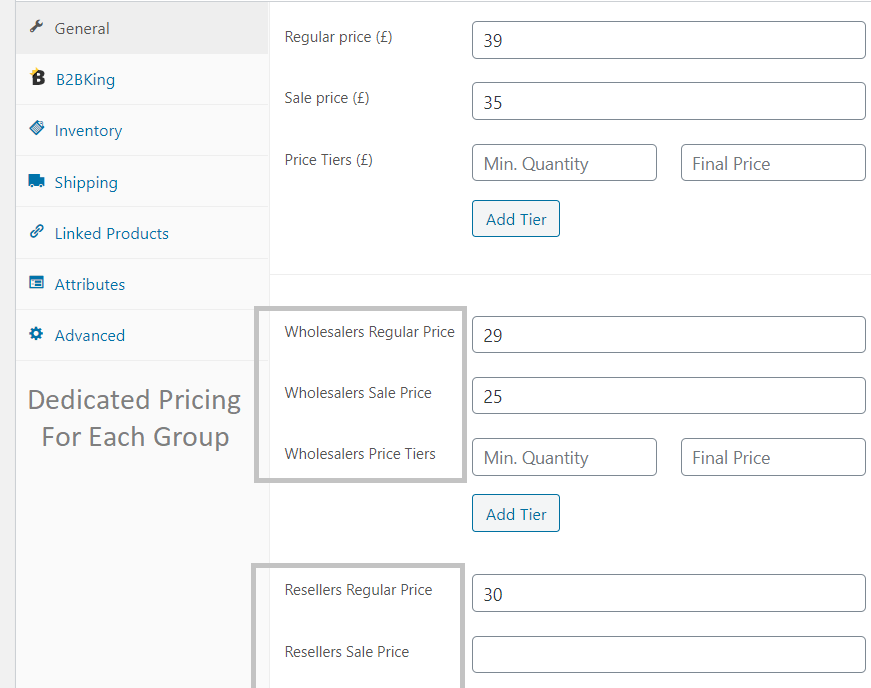 It's simple: each user group has its own pricing fields in the product backend. You can create unlimited groups and organize users however you want, as well as move users across groups for maximum flexibility.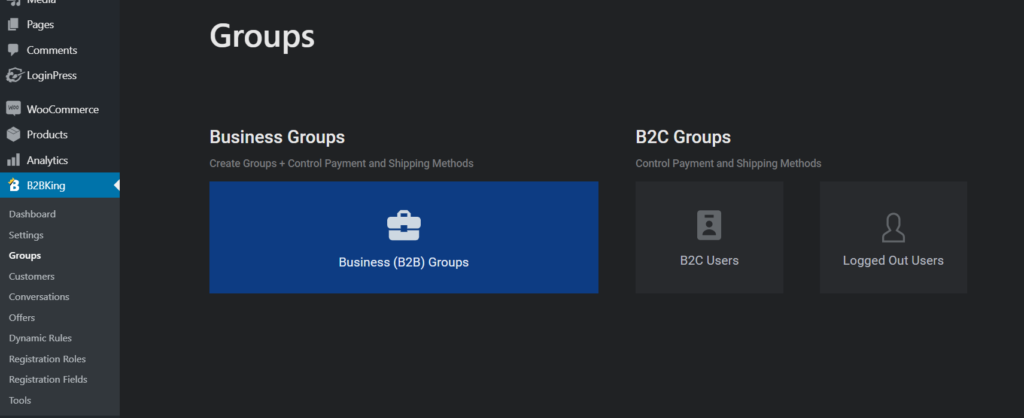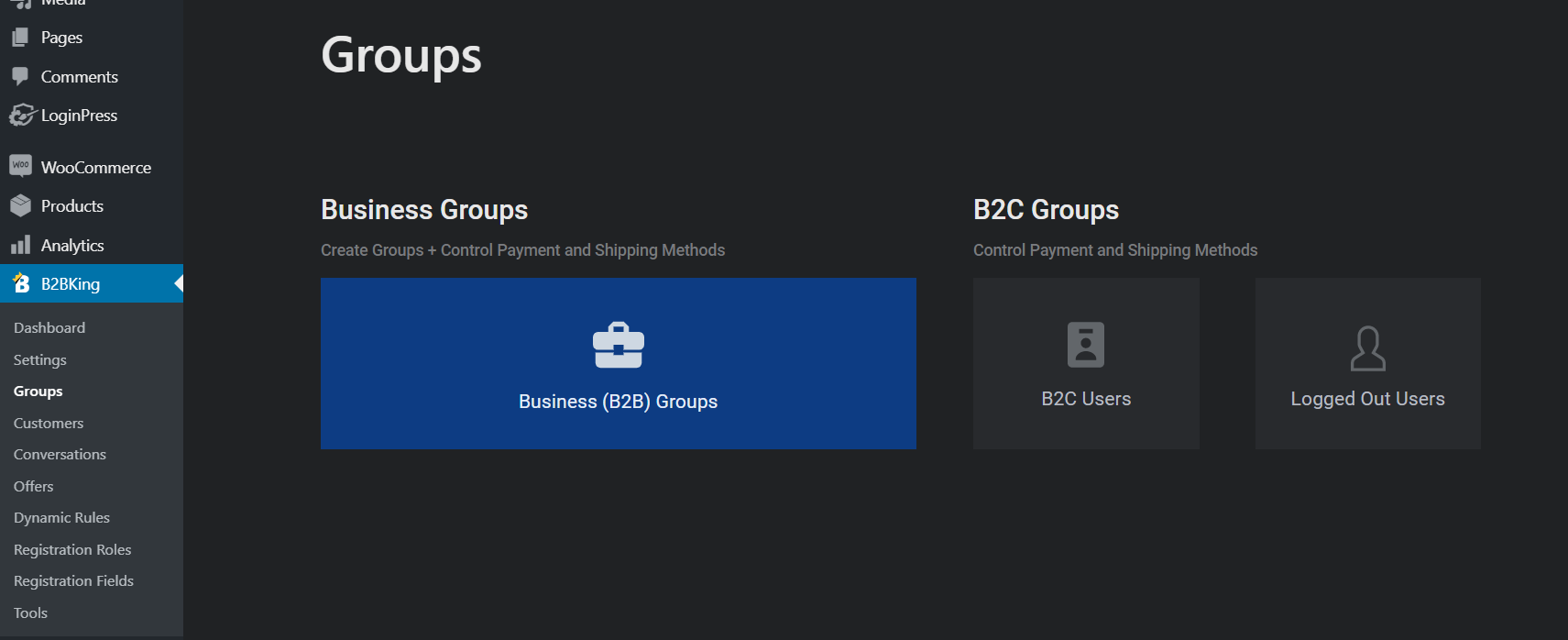 You can even set price directly by individual user if you want to do so, through the plugin's Fixed Price dynamic rules.


Why is this better than role-based pricing or price by user role?
B2BKing integrates groups seamlessly with other B2B and wholesale features:
Business Registration - Through manual or automatic approval, you can choose which users are assigned to which groups
Content Restriction - You can show different content to different users based on group
Different Payment or Shipping Methods based on group
Different Discounts, Minimum Order Quantity, Free Shipping thresholds etc. based on group.
Different Tax Rules / Tax Exemptions for different groups
etc.
Discounts by User or Group
Another powerful option in the plugin is creating discounts (amount or percentage) based on user or user group. Here are a few examples of what you can do with it:
25% discounts off all items for users in the Wholesale group
50% discounts off items in the "Computers" category for users in the Resellers group, IF they purchase items worth a minimum of $1000.
20% discount off all items for the user BigTechLLC
These discounts are achieved through the plugin's dynamic rules, and they can also be set together with conditions, such as a minimum order amount or quantity in order to get the discount.
Discounts can be applied either in cart, OR be applied as recalculated sale price. Here's what a recalculated sale price discount looks like: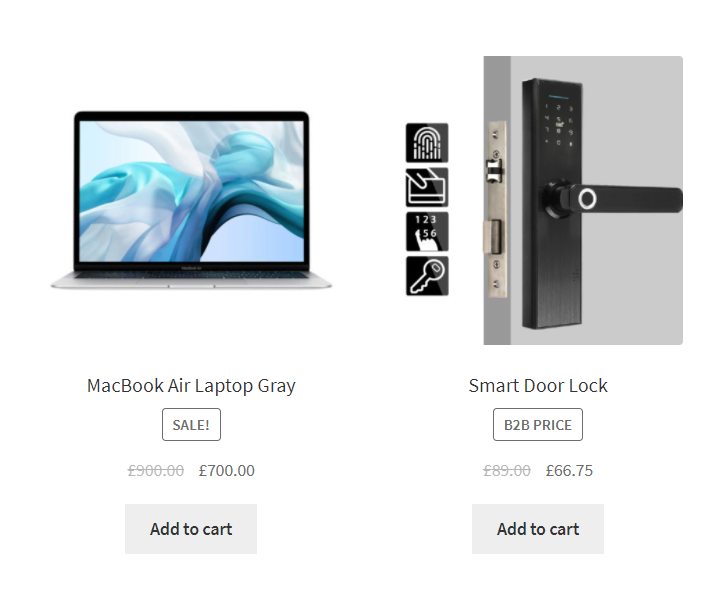 In the example above you can see the discount for "Smart Door Lock" is shown as a sale price.
In conclusion, the dynamic rules system is built to be as flexible as possible and allow multiple setups, for pricing by group, pricing by user role, by user, category, etc.
Tiered Pricing, Bulk Discounts and Tiered Price Table
For more pricing options, you should also be aware of the plugin's functionality for tiered pricing and the built-in tiered price table.
Through tiered pricing you can incentivize customers to purchase more, by getting a progressively better price as the quantity of their order increases.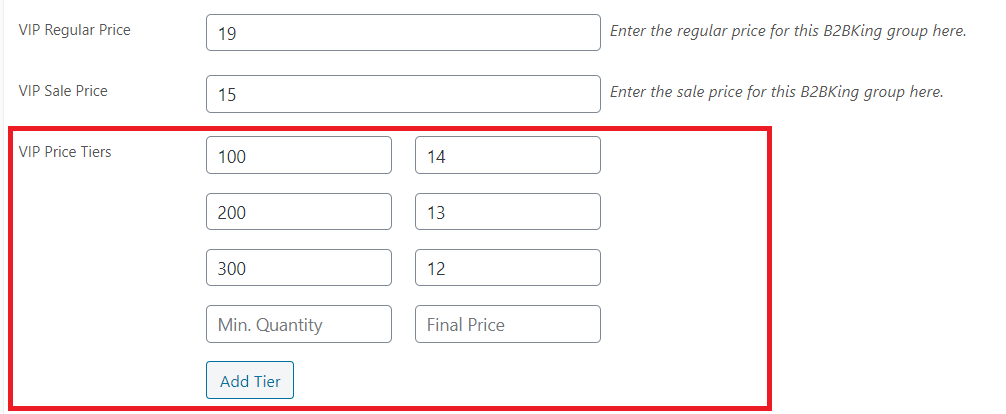 In the example above you can see how you can set tiered pricing, for each group, directly in the product backend. The setup is simple and all you have to do is input the minimum quantity, and the final price per that quantity.
To display these pricing rules to users, there is an automatically generated, built-in pricing table function. This generates a table with a design that adapts to the theme's design (so that it's compatible with all themes in the market). Here's an example of what this looks like with Porto theme: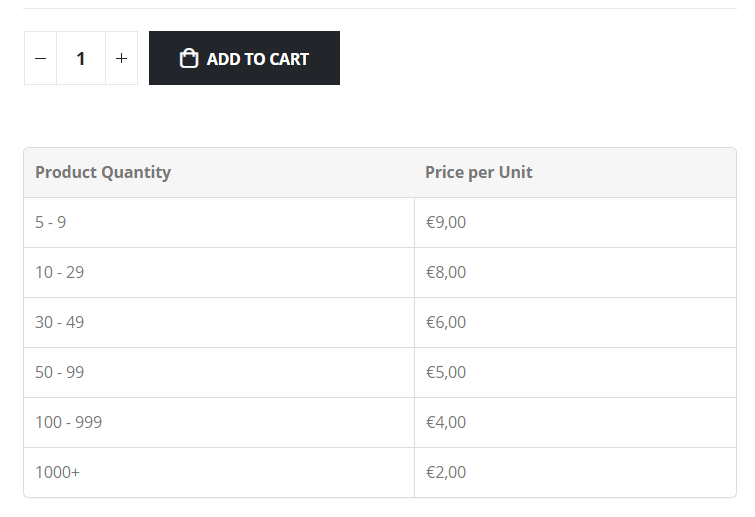 Groups and User Roles
Finally, when considering role based pricing and price by user role, it is worth mentioning that in B2BKing each group is connected to its own role. Therefore by organizing users in groups, they are also automatically assigned a group role, which you can use for configuration and compatibility with other plugins and systems.
In WordPress, users can have multiple roles, even though the default interface can suggest only 1 role can be set up per user. Plugins such as this one https://wordpress.org/plugins/multiple-roles/ enhance the interface to correctly show all roles a user has.
B2BKing assigns and removes roles based on group whenever you move the user from one group to another. So you can freely use B2BKing with any other role-based plugin to set up a complex and versatile shop.
B2BKing - Complete WooCommerce Wholesale Plugin
B2BKing is a complete b2b and wholesale plugin for WooCommerce with over 137+ features and functionalities, including:
business registration and custom registration fields
tax exemptions and prices with or without tax
request a quote functionality
product visibility control by product or category
offers and product bundles
conversations and messaging
invoice payment gateway
purchase lists for easy reorders
wholesale bulk order form
payment and shipping methods control
content restriction by group or user
and so much more!
You can click here to find out more about B2BKing and how it may fit your project. If in doubt about a feature or function, get in touch with us! Open a ticket in the Pre-Sales category: https://webwizards.ticksy.com